The short-term sector has attracted criticism from politicians, charities, local residents and has become a political issue with proposals for regulation having been mooted for some time.
Short-term Legislation Introduced
There are two pieces of legislation pertaining to short-term lets (STL) namely:
The Civic Government (Scotland) Act 1982 (Licensing Short Term Lets) Order 2022.
The Town and Country Planning (Short Term Let Control Areas) (Scotland) Amendment Regulations 2022.
The latter allows councils across Scotland to designate all or part of their area as a Short Term Let Control Area (STRCA). These are designed to help local authorities deal with high concentrations of short-term lets. If a property is situated in a control area, then, in addition to a short-term let license, owners will have to obtain planning permission for secondary letting.
In recent years Edinburgh has been cited as seeing the densest concentration of holiday lets in the UK, the Scottish Government has estimated that there are around 16,000 properties listed on platforms like Airbnb across the capital. This directly reduces the availability of places for people to live long-term in the city.
The result was Edinburgh Council voted unanimously to declare Edinburgh as the first STRCA area in Scotland, this means all short-term let (STL) properties will require a license and planning permission in order for a license to be granted.
Recent Developments
Since then, there have been recent developments that have impacted on the legislation the main one being a recent Court of Session ruling that deemed the City of Edinburgh Council's hard-line STL policy unlawful.
Now a year after the legislation was passed in Holyrood the Scottish Government has voted to confirm that the extended deadline of 1st October will stand.
On July 21st of this year, Paul McLennan MSP, Minister for Housing, sent a letter to Fiona Campbell, Chief Executive of The Association of Scottish Self Caterers (ASSC). The letter reaffirmed that the legislation would proceed as initially outlined and covered all the issues that were raised by the ASSC against the legislation and the outcome of the Judicial Review. In addition, all this had been discussed and shared with all other local authorities throughout Scotland
In light of this, it is crucial to recognize that the broader landscape for obtaining an STL license as outlined in the council's own planning guidance has in reality not changed much and remains at best challenging.
The City of Edinburgh Council's policy has been updated removing the previous elements that were classed as unlawful and has been re-issued, meaning owners must apply before 1st October. They are also required to hold or have applied for a change of use in planning permission prior to applying.
There is no longer a rebuttable presumption against the grant of a license in the licensing departments' policy, and the planning departments' guidance notes still stipulate that a change of use application for a property in a communal stair is still "very unlikely to be supported".
Any owner who is still operating a short-term let property in Edinburgh after the 1st of October who hasn't applied for both planning permission and a Short Term Let Licence will be committing a criminal act.
While it is possible to apply for planning permission and a license and continue to operate until decisions are made there is significant risk. In practical terms, the cost of a planning permission application for a typical 2-bedroom flat in Edinburgh is currently around £600, with the STL license fee of £1,089 which would mean a potential nonrefundable outlay of around £1700 with a very slim chance of a license being granted.
So the landscape is challenging and many STL owners will need to explore alternative options. The primary alternatives are either selling the property or transitioning to long-term letting.
Current Long-Term Rental Market Prospects
At this point, it is worthwhile pointing out that the long-term market across Scotland is seeing unprecedented levels of demand with void periods at historic lows. Therefore, it is certainly worth exploring the long-term option as it may be more financially viable than perhaps investors appreciate.
In a downturn, housing is affected as people either can't afford to buy a home so they will rent. Furthermore, many people prefer to rent when times are uncertain due to the flexibility it offers them and it could be argued that the Scottish system is particularly well suited to this due to the flexibility of the Private Residential Tenancy. The result is home ownership will drop and demand for long-term rental property tends to remain resilient.
The rise of the STL market has directly impacted the Private Rented Sector (PRS) reducing stock levels and there remains a shortage of supply of good quality rental properties in the PRS across Scotland.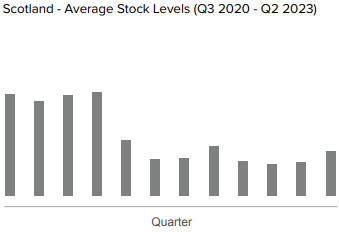 At a time when stock levels are at historically low levels, tenant demand remains high which continues to drive rental inflation, average rents in Scotland are increasing faster than anywhere else in the UK with Zoopla reporting a rental inflation figure of 12.7%.
It also seems that the difficulty in finding somewhere to rent in the PRS is resulting in tenants remaining in properties for longer with tenancies lasting an average of circa 24 months an increase from the long-term average of 19 months (based on 2015-2021 data). This reduces void periods for landlords, reduces risk, and should improve overall returns. The average time to let (TTL) figures across Scotland stand at just 19 days this is significantly lower than the typical long-term average of circa 30 days.
Focus on Edinburgh
The economic outlook for the city looks positive, according to Irwin Mitchell's latest UK Powerhouse Report produced by the Centre for Economics and Business Research Edinburgh will rise from being among the bottom five cities in the UK for economic output in Q4 2021 to 8th place by the end of 2023. A 2.2% year-on-year increase in Gross Value Added (GVA) equates to £900m of growth and takes the total size of the economy to £23.2 billion.
With eight of the UK's fastest growing cities in Q4 2023 set to be in the South and East of England, the report also highlights Foreign Direct Investment (FDI) as one of the reasons for continued success being located in the South.
Edinburgh is one of only two cities to buck the trend and in addition to Scotland's placing 5th for the number of FDI projects, the country is also among those seeing the biggest reduction in the number of FDI projects when compared to rivals south of the border. With much FDI centred around financial services, it is also clear from the report that those cities with the ability to cater to this vital sector are among those continuing to perform well. In fact, the city is already home to the second-largest financial sector outside of London and the 4th largest in Europe. Some 11% of the population work in the higher-earning financial and insurance sectors and 55% of households earn above £40,000 PA.
Opportunities for Landlords in Edinburgh
The population of Edinburgh is growing fast and first broke 500,000 in 2016, this had risen to 527,620 in June 2020. This growth is expected to continue at a rate of circa 5000 PA over the next 20 years. Savills have forecasted that the number of households within Edinburgh and the Lothians has the potential to increase by 25% over the period between 2017 and 2041.
The rented sector is expected to continue to offer people, who want to come and live and work in the city, a home. If the share of PRS households across the area remains at current levels (circa 20%) then the number of PRS households within the region could grow by 20,000 to circa 100,000 households by 2041. However, should the sector see its share of households increases by just 3% then the number would reach 114,042 equating to a further 34,326 households.
Over half of this growth is forecast to be within the City of Edinburgh itself. Should the share of PRS households in the city itself remain at its current level of 26%, this would equate to an additional 15,123 households in the tenure in the city but should it increase to 29% this would equate to an additional 23,876 more households.
The figures above are conservative compared to the growth already witnessed over the past six years.
Average rents for new tenancies in the city have risen by an unprecedented 14.7% year on year driven by a lack of supply and extremely high demand levels. The average rent for new tenancies in the capital now stands at £1327 PM and av TTL figures remain low at 15 days. One-bedroom properties in Edinburgh let the fastest, in 9 days on average but as seen at the national level demand outstrips supply across the board and TTL figures for all sizes of property across the capital have dropped significantly.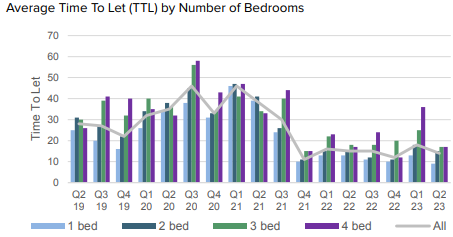 In conclusion, the recent changes in STL legislation in Edinburgh will significantly impact how affected properties are used after October 1st, 2023. We urge you to carefully consider your options and act promptly. If you decide to transition to long-term letting, it's crucial to assess your property's condition, pricing, and tenant screening processes.
The Edinburgh long-term rental market is dynamic, and with the right strategy, you can adapt successfully to these changes. Should you require further guidance or assistance in navigating this transition, please do not hesitate to reach out and we would be delighted to have an informal chat about the current state of the market.