It seems like the days of the Brexit debate have disappeared into the distant past and have been surpassed by recent events. There is now something else that looks like it will affect all our lives in ways which were unimaginable not that long ago and that of course is the Corona Virus and Covid-19.
There is now a worldwide debate about how to balance the medical challenges of the virus with the financial ones. It would be utterly unacceptable for any government to let the virus run its course in order to preserve the economy, but the financial impact the virus is having on millions of people also cannot be ignored. Like everyone we are struggling to work out what that impact is going to be.
What is clear is it is by far the worst thing that has happened to the world in a generation and the enormity of the situation and the way it is already influencing people's lives is enormous.
Historically, economic uncertainty and market volatility are detrimental to the housing market, and the latest observations on the impacts of coronavirus suggest that housing transactions are set to drop significantly over the next three months.
Richard Donnell director of research for Zoopla has struck a more optimistic view and has said:
"We do not expect any immediate impact on prices. Beyond this, the outlook for house prices largely depends upon how the Government's major package of support for business and households reduces the scale of the economic impact. Low mortgage rates mean forbearance will remain the preferred choice for lenders, but further Government support in these unique times cannot be ruled out."
Other commentators are projecting at least a 10% fall over the next 3 months though this is at a UK wide level and does not take into account local market conditions. We will look at the effects to local markets specifically Edinburgh in a later piece.
Focussing on the rental market one immediate response to the crisis has been the drop in bookings for short term rental (STR) properties. Many investors are now switching from STR to the long-term market and it will be interesting to see what effect this will have on regional markets going forward.
Another effect of the pandemic has been the reduction of the value of the pound with Sterling hitting its lowest level against the Dollar since 1985 last week. But a weaker pound makes it cheaper for overseas investors to buy property in the UK and there does seem to be appetite. However, the currency markets are in turmoil reacting to the latest developments on a daily basis and this is a constantly changing picture.
It is so easy for all of us to get so tied up in what is happening in the moment as we are bombarded on all sides with daily news bulletins and reports all over social media. Most people will be suffering from information overload, everyone is firefighting at the moment. But it is very important that we don't lose sight of the fact that regardless of how this dilemma is resolved, there will come a time when the crisis will be over and the economy will start to operate again.
The timing of any rebound is of course going to depend on when the current restrictions placed upon society will be lifted and then the extent and speed to which individuals and businesses are able to return to some semblance of normality.
Currently there is hope that there will be a rebound in the global economy in the second half of 2020 but the exact trajectory is unknowable. There is no doubt that there is going to be a severe economic shock and we are already seeing the effects of this reported every day. Governments all over the world are looking at ways to soften the impact. But what of the worst case scenario that of some level of recession?
For this blog piece we are going to examine what this might mean solely from the point of view as landlord so will concentrate on the rental market. We will take a closer look at the investment/sales market in another blog.
It is the housing market and not the rental industry that tends to suffer the most during a recession. In a down turn housing is affected as people either can't afford to buy a home so they will rent. Furthermore, many people prefer to rent when times are uncertain due the flexibility it offers them and it could be argued that the Scottish system is particularly well suited to this due to the flexibility of the Private Residential Tenancy. The result is Home ownership will drop and demand for long term rental property tends to remain relatively resilient to external shocks.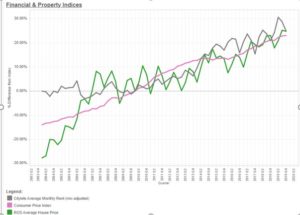 Focusing on rental values specifically in Scotland these also tend to remain relatively stable in comparison to house prices. This can be seen using data from the Citylets shown in the graph above average monthly rents during the 2007 financial crisis rents actually rose to begin with and spiked in 2008 Q3 with a growth rate of 3.92%. This may in part be due to an increase in demand as the effects of the crisis hit home. After this point rental growth did slip into negative territory with the lowest point being a rate of -1.25% in Q4 2009 after which there was a recovery and growth rates bounced back.
The other thing that is worth pointing out is that most seasoned investors understand turmoil and volatility is part of what constitutes a market and are in it for the long term. If the market were to take a dip after Covid-19 then would this really be of concern and would it not bounce back after time? The answer is to tune out the noise and play the long game, take emotion out of the equation and stay invested to look beyond temporary market fluctuations.
Warren Buffet once said;
"Be fearful when others are greedy and greedy when others are fearful."
At Glenham we are a premier Edinburgh letting agent and have always been focussed on responding to market conditions and are always seeking ways to react and mitigate our client's risk as much as we can. We have always made sure we have embraced technology which has meant the transition to working from home has been smooth with limited impact on our service levels. We are still open working for both our clients and our tenants and we are still letting properties. We can carry out virtual viewings for properties on the market and the same for valuations for prospective landlords. Please do not hesitate to get in touch should you require help with property investment or are looking to rent our your property via our property management service.