The rise of the STR market across Scotland has been contentious to say the least and it is now the general consensus that there are now far too many properties that are rented out in their entirety for holiday lets. It has impacted particularly heavily in Edinburgh; the Scottish Government has estimated that there are around 16,000 properties listed on platforms like Airbnb across the capital. This directly reduces the availability of places for people to live long term in the city.
The result is the sector is becoming increasingly unpopular with residents across the country and has become a political issue with proposals for regulation having been mooted for some time.
In April 2021 the Scottish Government finally introduced legislation which allows councils across Scotland to designate all or part of their area as a Short Term Let Control Area (STRCA)
Focus on Edinburgh
Edinburgh Council voted unanimously to declare Edinburgh as the first STRCA area in Scotland, this means is that all STR properties will require a license and most will require planning permission in order for a license to be granted. Existing hosts will have until 1st April 2023 to apply for a license for each property and all STR properties will be required to have a license in place by 1st July 2024
Most commentators believe that the ability of owners to operate STR properties in the city will be severely restricted and many will not be granted a license. We are already seeing owners exiting the market and selling properties.
Current Long Term Rental Market Prospects
The rise of the STR market as mentioned has directly impacted the Private Rented Sector (PRS) reducing stock levels and there remains a shortage of supply of good quality rental properties in the PRS across Scotland while tenant demand continues to remain at record levels.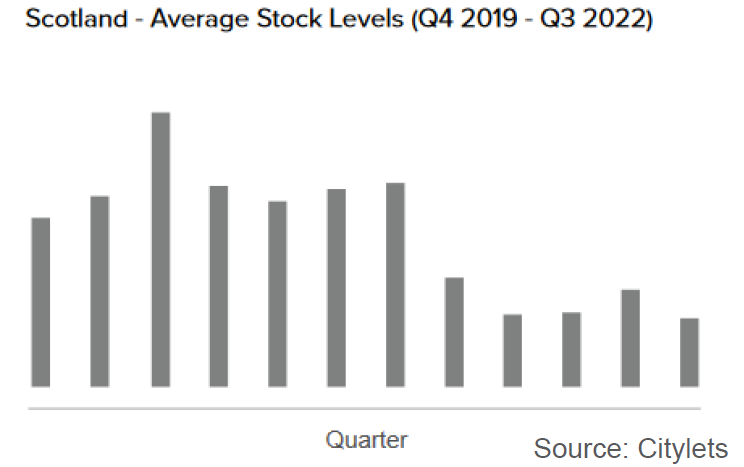 At a time when stock levels are at historically low levels according to the RICS tenant demand in Scotland is higher than anywhere else in the UK.
The supply demand balance has driven rental inflation with average rents in Scotland climbing by 8.3% year on year to a record high of £981 PM.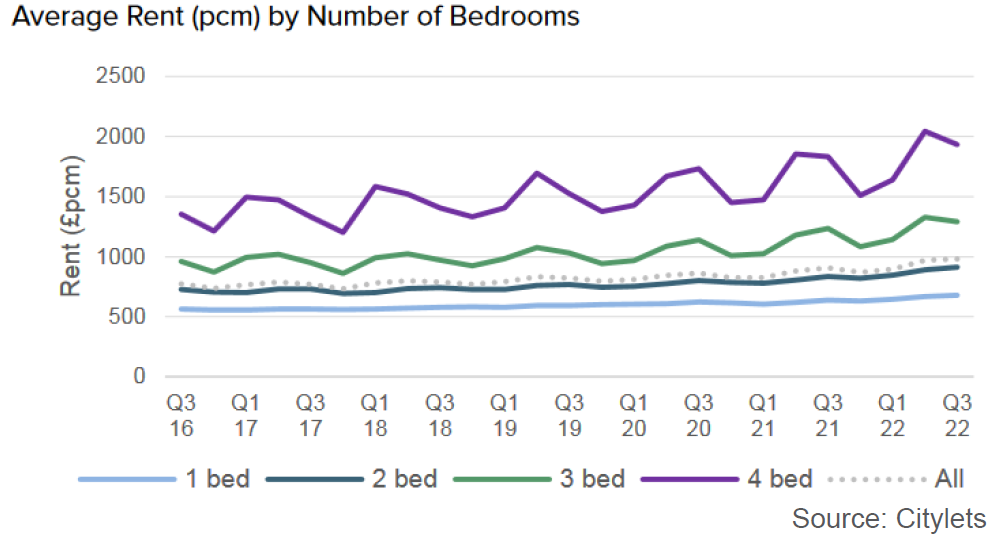 It also seems that the difficulty in finding somewhere to rent in the PRS is resulting in tenants remaining in properties for longer with tenancies lasting an average of 24 months an increase from the long term average of 19 months (based on 2015-2021 data). This reduces void periods for landlords, reduces risk and should improve overall returns. The average time to let (TTL) figures across Scotland stand at just 15 days this is significantly lower than the typical long term average of circa 30 days. One-bedroom flats, with an average rent of £680, were the quickest to let across Scotland, with an average time to let of 11 days.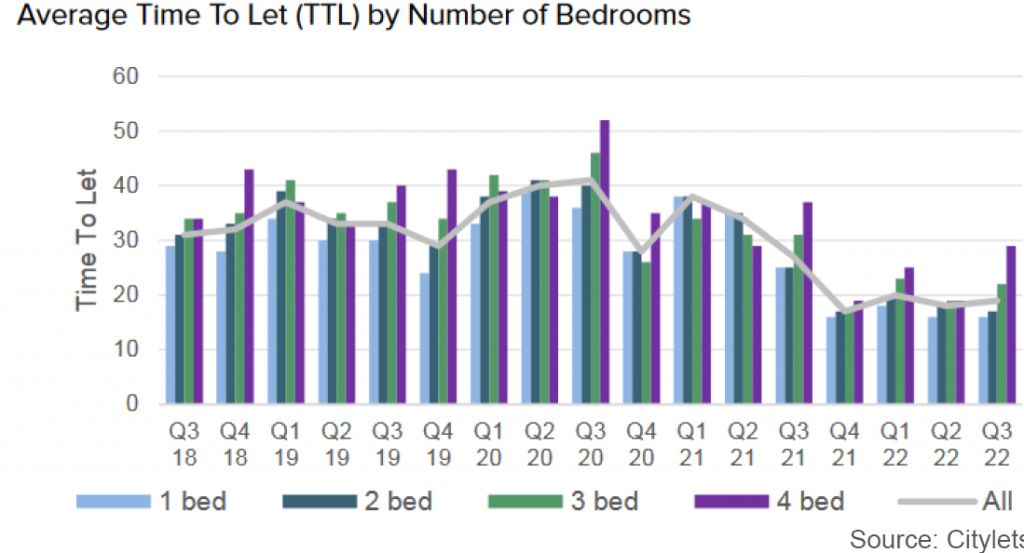 In a down turn housing is affected as people either can't afford to buy a home so they will rent. Furthermore, many people prefer to rent when times are uncertain due the flexibility it offers them and it could be argued that the Scottish system is particularly well suited to this due to the flexibility of the Private Residential Tenancy. The result is home ownership will drop and demand for long term rental property tends to remain resilient to external shocks.
Nathan Emerson CEO of ARLA Property Mark said:
"The private rented sector desperately needs more properties to meet the overwhelming demand from tenants. The market is starved and as such is becoming very competitive for tenants trying to secure a home".
Focus on Edinburgh
The economic outlook for the city looks positive, according to Irwin Mitchell's latest UK Powerhouse Report produced by the Centre for Economics and Business research Edinburgh will rise from being among the bottom five cities in the UK for economic output in Q4 2021 to 8th place by the end of 2023. A 2.2% year on year increase in Gross Value Added (GVA) which equates to £900m of growth and takes the total size of the economy to £23.2 billion.
With eight of the UK's fastest growing cities in Q4 2023 set to be in the South and East of England, the report also highlights Foreign Direct Investment (FDI) as one of the reasons for continued success being located in the South.
Edinburgh is one of only two cities to buck the trend and in addition to Scotland's placing 5th for the number of FDI projects, the country is also among those seeing the biggest reduction in the number of FDI projects when compared to rivals south of the border. With much FDI centred around financial services, it is also clear from the report that those cites with the ability to cater for this vital sector are among those continuing to perform well. In fact, the city is already home to the second largest financial sector outside of London and the 4th largest in Europe. Some 11% of the population work in the higher earning financial and insurance sectors and 55% of households earn above £40,000 PA.
Opportunities for Landlords in Edinburgh
The population of Edinburgh is growing fast and first broke 500,000 in 2016, this had risen to 527,620 in June 2020. This growth is expected to continue at a rate of circa 5000 PA over the next 20 years. Savills have forecasted that the number of households within Edinburgh and the Lothians has the potential to increase by 25% over the period between 2017 and 2041.
The rented sector is expected to continue to offer people, wanting to come and live and work in the city, a home. If the share of PRS households across the area remains at current levels (circa 20%) then the number of PRS households within the region could grow by 20,000 to circa 100,000 households by 2041. However, should the sector see its share of households increase by just 3% then the number would reach 114,042 equating to a further 34,326 households.
Over half of this growth is forecast to be within the City of Edinburgh itself. Should the share of PRS households in the city itself remain at its current level of 26%, this would equate to an additional 15,123 households in the tenure in the city but should it increase to 29% this would equate to an additional 23,876 more households.
The figures above are conservative compared to the growth already witnessed even over the past six years.
Average rents for new tenancies in the city have risen by an unprecedented 14.7% year on year driven by a lack of supply and extremely high demand levels. The average rent for new tenancies in the capital now stands at £1327 PM and TTL figures remain low at 15 days. One-bedroom properties in Edinburgh let the fastest, in 11 days on average but as seen at the national level demand outstrips supply across the board and TTL figures for all sizes of property across the capital have dropped significantly.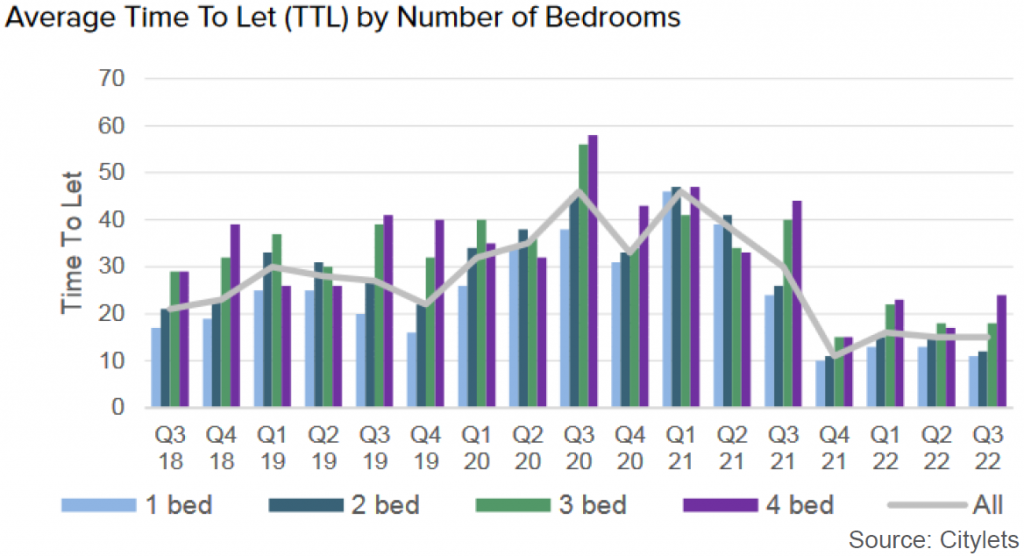 The market in Edinburgh has swung from a situation of a post pandemic oversupply of stock, which resulted in deflationary pressure on rents, to one of a significant undersupply, which has driven rents to record levels in the capital. Demand levels remain high – we are seeing multiple applicants for any property advertised, resulting in average time to let figures dropping across all areas and for all sizes of properties.
It is our expectation that demand levels will remain high and at the same time stock levels will continue to be constrained, meaning competition amongst tenants searching for properties will be intense. The result is we feel the sector in the city is well placed to weather any adverse headwinds resulting from an economic slowdown and is still offers the investor opportunity for good low risk returns but investing in the right property is critical and taking professional advice in now more important than ever.
Those owners who have been operating in the STR and who are considering exiting should perhaps not rush to sell but rather look at all their options and consider moving into the long term market.
How to swap from short to long term lets
The first thing to say is this is easy and we can make it hassle free!
Our in-house letting team would first get in touch to listen to the concerns an owner may have regarding their short-term let.
We will work with owners to conduct a full analysis to establish the property's current value and make recommendations as to how you can maximise yields and potential returns. The focus would be on advising on the best possible solution for them and their property.
If the long-term market seems the best solution, we can then advise on all the necessary safety certificates and have recommended contractors available to put them in place all of which will be handled by our team.
We would then market the property, carryout viewings vet applicants for the property and of course manage the property once the tenants have moved in. The good news? We won't charge you a single penny for the management of your property until we find you tenants.
If you are interested in exploring opportunities please do get in touch.
About Glenham
At Glenham we are so sure that any new client will be impressed with our levels of service that we offer 2 month free period.
Glenham is a multi-award winning property management company, with the asset in this case being property. Our primary focus is to ensure our clients maximise returns from their investments while at the same ensuring their legal and regulatory requirements as a landlord are met and the property is looked after and well maintained.
We understand property as an asset class and as said we are always seeking ways to maximise our clients returns, and mitigate their risk. We are constantly reviewing the market and keep up to date with any changes that could adversely affect our clients' investments and are able to react quickly to minimise any potential damage.
We are proud of our track record and awards, as a team it is our mission to apply the traditional values of integrity and communication to build trusting relationships with our client landlords while at the same time utilising technology and innovation to ensure we remain at the forefront of the lettings business.
We are an ARLA regulated company which means we meet and surpass the minimum regulatory requirements for letting agents in Scotland. We pride ourselves on a customer focused approach to property management with a single property manager looking after your property and who will deal with all aspects of the ongoing management and tenancies.
Story update – Short Term Let Licensing Implantation Delayed
Short-term letting rules have been delayed for six months by the Scottish Government over concern that they threaten a vital source of accommodation for visitors during cultural events such as The Edinburgh Festival.
The Cabinet Secretary for Social Justice, Housing and Local Government has written to the Local Government Housing Planning Committee today to advise it that the Scottish Government intends to lay an affirmative Scottish Statutory Instrument in January 2023 that will seek to amend The Civic Government (Scotland) Act 1982 (Licensing of Short-term Lets) Order 2022.
In a letter to the Convener of the Local Government Committee Ariane Burgess, Housing secretary Shona Robison confirmed the decision to delay introducing the system from 1st April 2023 to 1st October 2023.
She said, "This is a one-off six-month extension, which recognises the wider economic circumstances of the cost-of-living crisis that is placing pressure on existing short-term let hosts and businesses without significantly delaying our primary aim of ensuring consistent safety standards and addressing issues faced by residents and communities."